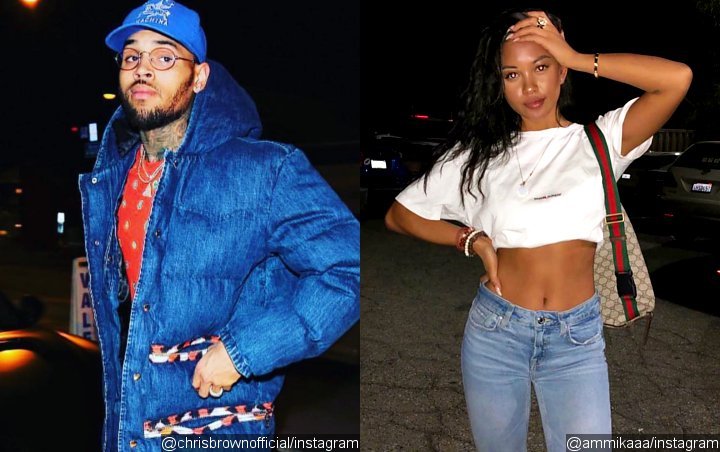 The 'Kiss Kiss' Hitmaker Calls The 25-Year-Old Model 'Baby Mama,' Prompting His Fans To Speculate That She Is Currently Pregnant With Their First Child Together.
 – Is Chris Brown about to become a father again? The 30-year-old singer has sparked the speculation that his rumored girlfriend Ammika Harris is pregnant with his child after he left gushy and flirty comments on the model's recent Instagram post.
On Wednesday, May 8, Ammika shared a photo and video of her in an arcade room. In the photo, the 25-year-old beauty was seen holding a basketball while smiling and posing sideways with the background of a basketball set-up, flaunting her perky derriere. "GAME TIME," she capt
Not one who is holding back from expressing his feelings, Chris took to the comment section to show his approval for her photo and video. "Yup," he wrote in one of his two comments. But it was his second comment that prompted the pregnancy talk as he called her "BM BAD."
Fans have since been guessing what "BM" could mean, and most of them seem to understand that it stands for "baby mama." One Instagram user asked, "So y'all having a baby or not @chrisbrownofficial you ain't getting no younger." Another comment read, "So that's your BM @chrisbrownofficial ??? Interesting."
Chris and Ammika have not gone public with their relationship, but he has been expressing his love for her on social media. In one of the model's recent posts in which she posed in a pink dress, the "Run It!" hitmaker gushed, "Stunning."
An Internet troll tried to remind Chris that she's just "all make up," but Ammika quickly clapped back at the hater. "Believe me he knows how I look WITHOUT ALL THE MAKE UP U TALKING ABOUT," she swiftly responded to the said user.