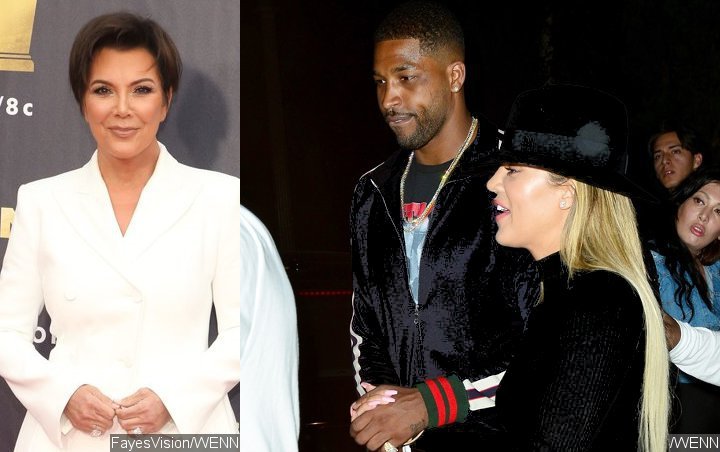 The Momager Allegedly Advises Her Daugher To 'Follow Her Heart' And Get Back Together With Cleveland Cavaliers Player.
– Kris Jenner is giving Tristan Thompson a second chance despite him previously cheating on her daughter Khloe Kardashian. The 62-year-old reality TV star allegedly has been urging Khloe to "follow her heart" and get back together with the Cleveland Cavaliers player, with whom she shares their daughter True.
"Kris has very much been a voice of calm and reason in recent weeks, and she's telling Khloe to follow her heart," a source shares to HollywoodLife.com. "Kris knows how difficult it is to be a single mom, even when you have a ton of money and a huge family around you, and she really believes Tristan deserves a second chance."
It's not that Kris is never mad at Tristan for giving her daughter a hard time after the cheating scandal broke. "At first Kris was furious at Tristan, but after talking to him she truly believes that he's sorry, and she believes he genuinely regrets what he did," claims the source.
The momager allegedly "loves Tristan, and she thinks he's great for Khloe." The source goes on explaining, "After watching what Lamar [Odom] put her through, Tristan was a breath of fresh air, and sure he messed up, but it was pretty minor in comparison. Kris really wants to see Khloe settled down and happy, so she's encouraging her to not give up on Tristan just yet, for the sake of True, if nothing else."
It seems like Khloe listens to her mom's advice afterall. The "Keeping Up with the Kardashians" showed to the world that her relationship with the athlete is still very much going strong with a recent Instagram Stories picture.
The image was taken at her Calabasas, California living room that was filled with silver balloons spelling out the words "welcome home." It turned out Tristan was the one who set them up to welcome her and their daughter True Thompson home after their trip to Bali. Tristan was absent from the vacay since he is still busy with the NBA season.
"Thank you baby," Khloe simply wrote on the picture alongside a pink heart emoji.