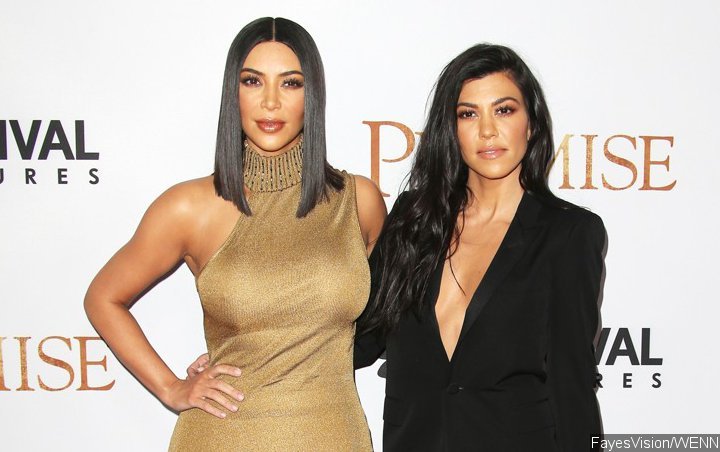 The Mother Of Three Is Reportedly Planning To Move To New York With Her Kids 'Because She's Just Done With The Family.'
– Kourtney Kardashian can't keep up with the Kardashians anymore. Rumor has it that the reality TV star is ready to ditch her famous family and move to New York with her three kids, following her nasty feud with sisters Kim Kardashian and Khloe Kardashian.
Radar Online reports that the mother of three is planning to leave her Calabasas home and exit her family reality show "Keeping Up with the Kardashians" for good. "She wants to move to New York with the kids, because she's just done with the family," a source tells the site. "She does not want to be a 'Kardashian' anymore."
The source adds that the 39-year-old socialite is ready to ditch her last name, saying, "Honestly, if Kourtney could get married today, and have a different last name she totally would!"
While her current contract obliges her to appear on the E! reality series until 2019, Kourtney is reportedly adamant that she won't renew her contract beyond that. "It is going to take an insane amount of money to get Kourtney to renew her contract after the current one ends," the source claims.
The Kardashian sisters' feud has been featured on "KUWTK". Kourtney revealed in an episode that she's tired of her sisters overly criticizing her. "I think it started at the end of season 14, a lot of tension building between us," she told E! News earlier this month of the feud. "I felt like every day almost I was being picked on and criticized and I just couldn't take it any more."
She continued, "Honestly, I think it's ongoing. I've been really working on myself a lot and I think through my growth, I'm better at expressing myself. I think in the past I've always been great at like not being emotional. I think that I'm better now at expressing my feelings. So I think this is ongoing. It's a lot of communication instead of letting things go back into the way that they were. It's definitely a process and you'll see it throughout the season."
Kourtney once again clashed with her sisters in the latest episode when she didn't invite her ex and baby daddy Scott Disick to the family's annual Christmas Eve bash. "This is exactly why my sisters and I haven't been getting along, because they just don't have my back and they don't take my feelings into consideration," she admitted.