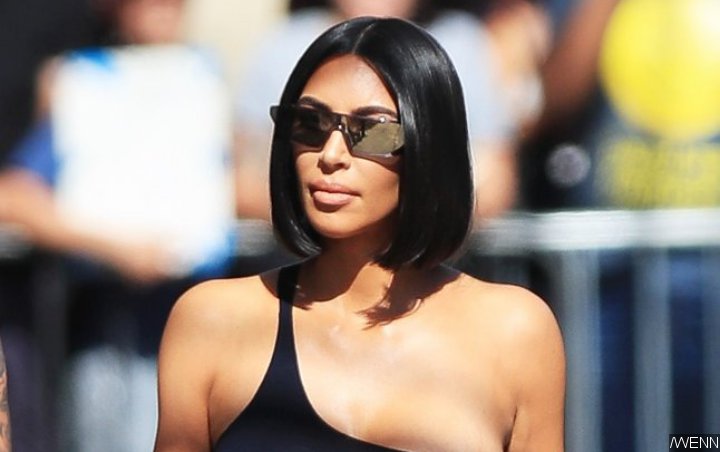 The 'Keeping Up With The Kardashians' Star Struck A Pose When Her Shimmery Vintage Versace Skirt Rode Up, Revealing Her Crotch.
Kim Kardashian showed a little too much skin to her 115 million followers on Instagram on August 11. The "Keeping Up with the Kardashians" star shared a picture of herself accidentally flashing her crotch while sitting at the backseat of a car. However, she didn't seem to care about it as she didn't delete the picture on her account.
The photo saw Kim rocking a shimmery vintage Versace skirt which she paired with a silver skin-tight bodysuit. Wearing dark sunglasses, the mother of three struck a pose as her shimmery skirt rode up, revealing her crotch. Kim seemingly also dicthed her bra as her nipples were slightly visible in her top. "Energy doesn't lie so trust those vibes you're getting," the makeup mogul captioned the photo.
Kim Kardashian accidentally reveals her crotch.
Kim was spotted wearing the same outfit on July 28 when she attended photographer Marcus Hyde's event with husband Kanye West. While the 37-year-old TV personality opted to wear a revealing outfit, the "Gold Digger" rapper kept it casual by donning paint splattered jeans, a gray T-shirt and a few gold chains.
It was also the same occasion when Kim debuted her short bob hairstyle, which she later regretted. Kim implied on her Twitter account on July 30 that she regretted her decision to chop off her long brunette hair, despite the fact that she looked just fine with her sleek bob hair. "Wait I miss my long hair," the TV star wrote with a crying emoji.
However, her loyal fans disagreed as they responded to the tweet, praising her for her new haircut. "I can't believe you actually cut it, but i think its super cute, who convinced you to cut it?" a fan commented. "You look amazing with long and short hair so do whatever you want sis," one added with a heart emoji. "Long is iconic on you but totally loving the short!!!" another fan praised her.