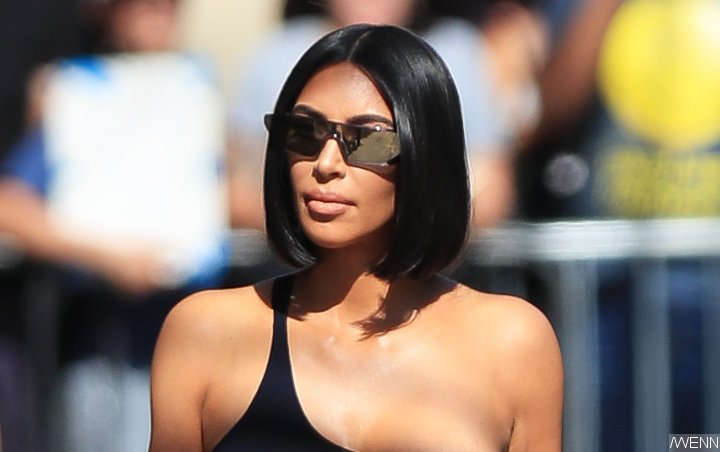 The 'Keeping Up With The Kardashians' Star Shares Her Feelings On Twitter Less Than 48 Hours After Showing Off Her Bob Hair At A Charity Poker Tournament.
– It didn't take too long for Kim Kardashian to have a second thought about her new hairstyle. The reality TV star took to her Twitter account on Monday, July 30 to admit that she regretted her decision to chop off her straight long brunette hair into a sleek bob. Kim stated that she missed her long hair although she looks gorgeous with her bob hair.
"Wait I miss my long hair," the "Keeping Up with the Kardashians" star wrote on her account with a crying emoji. Kim's loyal fans then responded to the tweet, praising her for her new haircut instead.
Wait I miss my long hair
"I can't believe you actually cut it, but i think its super cute, who convinced you to cut it?" a fan commented. "You look amazing with long and short hair so do whatever you want sis," one added with a heart emoji. "Long is iconic on you but totally loving the short!!!" another fan praised her, while one person shared her feelings, "I know the feeling! Every time I cut my hair short I miss my long hair! But I always complain about my long hair ugh! #TheStruggleIsReal."
Kim showed off her new bob haircut at a charity poker tournament for City of Hope National Medical Center, which was held at The Forum in Inglewood, California, on Sunday Night, July 29. The 37-year-old cosmetics mogul rocked a black sleeveless tight top with plunging neckline, which exposed her cleavage, and a pair of black sunglasses. Kris Jenner, Khloe Kardashian and Kendall Jenner were also there to join her, wearing matching black outfits.
It appeared that Kim wanted to change her long strands into a sleek bob after sister Khloe chopped off her long blonde hair with the help of her longtime stylist Justine Marjan. Khloe posted a picture on her Instagram account on July 28, flaunting her blonde sleek bob to her 77.2 million followers. " 'Not smiling makes me smile' Kanye," the Good American founder captioned it.
Kim had tried many kinds of hairstyles before she asked her stylist Chris Appleton to change her hair into a bob. She had platinum blonde hair in the same bob style around Christmas last year, a long pink hair and her iconic long brunette hair.