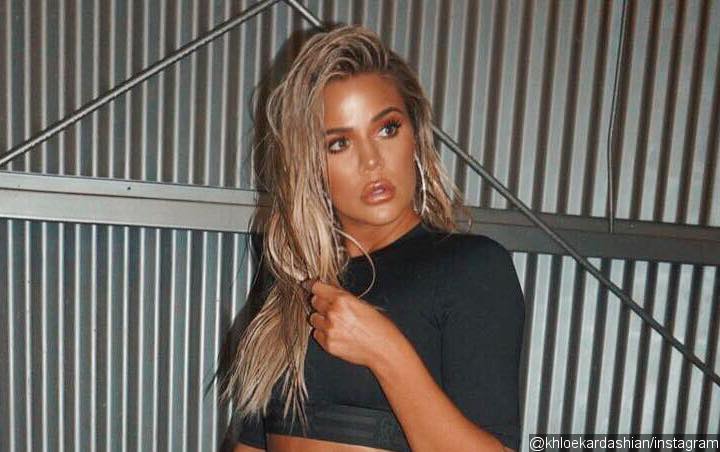 Because Of The Heavy Spray Tan, One Fan Jokes That The Blonde Beauty Looks Like An Oompa Loompa, A Character From 'Willy Wonka And The Chocolate Factory'.
– Khloe Kardashian took to Instagram on Friday, July 27 to promote her new athletic wear line, but fans are noticing something else instead. The "Revenge Body with Khloe Kardashian" host was ridiculed for going too far with her spray tanning in the photo.
The image in question featured Khloe posing in a gray crop top and bicycle shorts that look similar to her brother-in-law Kanye West's Yeezy design. She completed her look with a fanny pack, white sneakers and her iconic gold hoop earrings. Even though Khloe recently debuted a shorter locks, she sported long, wavy blonde hair in the pic.
Her stunning abs were full on display, but what caught people's attention the most apparently was how orange she appeared in the picture. "Why so orange?" one fan asked in the comment section, while another joked that she looked like an Oompa Loompa, a character from "Willy Wonka and the Chocolate Factory".
There was also a fan who said that the mother of one looked "better natural, spray tans aren't you." Meanwhile, one fan speculated that she was trying to match her skin tone to her daughter True Thompson's, whom she shares with Tristan Thompson. "Why you tryna have the same skin tone as True?" the said wrote.
"Absolutely profoundly disturbing and disappointing in so many ways," another fan commented. "You are the whitest of them all but you're out here looking darker than Kim [Kim Kardashian]. This is straight up catfish everybody." One other simply told her to "put down the spray tan gun luv."
This arrives after Khloe was slammed for holding True dangerously in one Instagram picture. While many blasted the "Keeping Up with the Kardashians" star for not supporting her baby's neck properly in the picture, some others criticized her for sporting long nails while holding the baby. As of now, Khloe has yet to respond to the backlash.