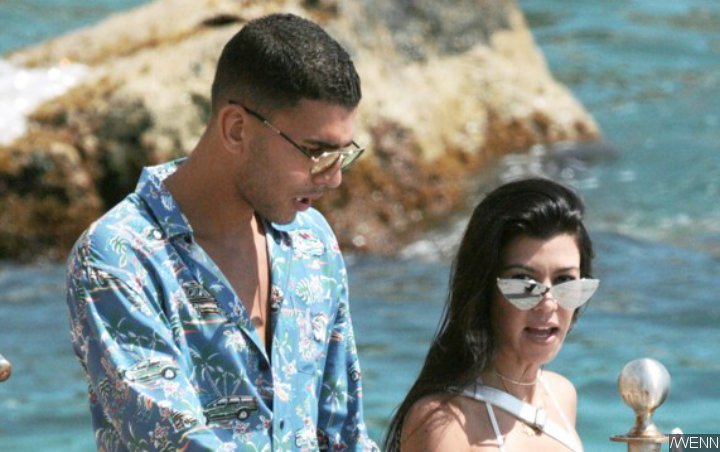 The 'Kourtney And Kim Take Miami' Star Poses In A White Thick Sweater And Covers Her Leg With A Blanket In The Instagram Picture And Her Boyfriend Approves It.
Kourtney Kardashian seemed to try to make her boyfriend Younes Bendjimahappy by posting a less sexy picture of herself on her Instagram account. She was seen more covered up in the new photo and it certainly made her model boyfriend proud. Younes even took his time to tease the reality TV star in the comment section.
The photo saw the "Kourtney and Kim Take Miami" star relaxing on her bed and wearing a white thick sweater. One of her tanned legs was exposed, while she covered the other leg with a lavender blanket. The picture didn't show too much skin compared to her other pictures and Younes approved it. "Hmmm well…ok for this one," the Givenchy model commented on the photo with a laughing emoji.
Kourtney's best friend Simon Huck responded to Younes' comment with an eye-roll emoji, to which Younes replied, "Let me just play around fam."
Recently, Younes threw shade at his girlfriend due to her revealing pictures on the photo-sharing platform. In one photo, the mother of three flaunted her bubbly butt in a flowery bikini thong. The post apparently angered her boyfriend as he wrote a sarcastic comment, "That's what you need to show to get likes?" the comment was deleted afterward.
A source revealed that Younes always had a problem with Kourtney's sexy pictures. "He has always had a problem with this," the source said. "This is the stuff they argue about and what made them split in the past."
According to another source, things were different when Kourtney was still in relationship with Scott Disick. "It's funny, because Scott was the exact opposite. It used to really turn him on, but Younes gets bummed about it, and he's not afraid to let Kourtney know," the source revealed. "Younes will tell Kourtney that he thinks it makes her look thirsty for attention and fan admiration when she posts sexy photos," added the source. "It definitely is an issue between Kourtney and Younes, and although he will apologize when he wrote a comment like he did on her Instagram, it really upsets Kourtney."